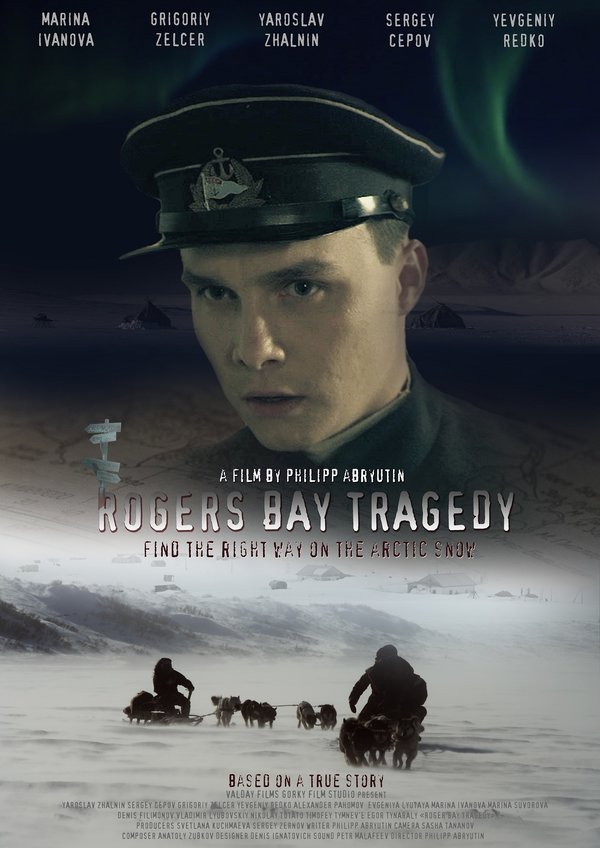 TRAGEDY AT RODGER'S BAY - TPAΓΕДИЯ В БУХТЕ РОДЖЕРϹ
Philipp Abryutin
2015 Russia 93'
Cast: Yaroslav Zhalnin, Sergey Cepov, Grigoriy Zelcer, Yevgeniy Redko, Alexander Pahomov
Premi / Awards: III "SILVER AKBUZAT" FILM FESTIVAL 2015 (Russia) – Premio per la Miglior Fotografia; 14TH FILM FESTIVAL OF FILM DEBUTS "SPIRIT OF FIRE" 2016 (Russia) – "Golden Tayga" Premio del Pubblico, Premio per la Miglior Fotografia.
| | |
| --- | --- |
| Screenplay | Philipp Abryutin |
| Producer | Svetlana Kuchmaeva, Sergey Zernov |
| Photography | Sasha Tananov |
| Producer Company | Valday films |
| Distribution | Valday films |
| Contacts | www.valdayfilms.com |
Premi / Awards: IX CHEBOKSARY FILM FESTIVAL 2016 (Russia) – Premio come Miglior Attore, XVIII ALL-RUSSIAN SHUKSHIN FILM FESTIVAL 2016 (Russia) – Premio per la Miglior Fotografia
Based on the true story. USSR. 1935.
NSRA (Northern sea route administration) inspector Nikolay Zherdev got the order to come on the polar research station on the Wrangel island and commit the doctor Wolfson's death as an accident. At the first day in Arctic Zherdev understands that his trip will not be easy: anti-semitism and other signs on station says that doctor Wolfson was killed and this death linked with death of some local Inuit and Chukchy people. Risking his career, Zherdev goes against all advices from above and begins the investigation. With local Inuit peoples he saves Wolfson's wife but his own life is in danger.
Philipp Abryutin was born in 1986 on the Russian Far East – Chukotka region. All the childhood he spent with parents-doctors traveling to the reindeer-herders households in different places of Chukotka. Herders live and their unique stories had a strong influence on Abryutin's view of the life. Won some literature and historical competitions with the works about Chukotka and its people, Abryutin decided to go to the All-Russian State Film Institute (VGIK) for studying film directing. Now he is writing thesis in VGIK about theory of film dramaturgy. He shot some shorts, which got prizes on Russian, and international film festivals. Feature Tragedy at Rogers' Bay is his debut.